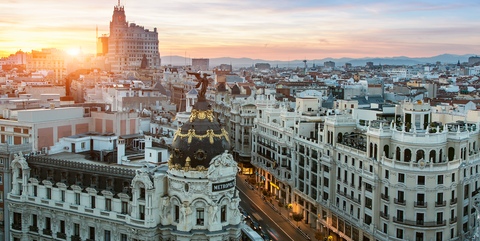 We all know that just thinking of going on vacation is a task in and of itself—when to go, how many days to take off, figuring out a budget—that by the time you get to the fun part (location!) it's kind of another task. With so many amazing places to see in this world, it can quickly become overwhelming. Here, a cheat sheet. May you find the international vibe you're looking for based on your favorite cities in the U.S.
1
Like San Francisco? Visit Lisbon
Lisbon and San Francisco have uncanny similarities when it comes to terrain, architecture, and even infrastructure. Built upon hills, both cities feature peaks with incredible views (that will give you a definite workout) and both cities boast water that surrounds plenty of the cities. (San Francisco has the San Francisco Bay and the Pacific Ocean, while Lisbon is primarily located on the Tagus River just before it empties in the Atlantic Ocean.) Both cities also feature cable cars and street cars—while Lisbon makes greater use of them, as part of the major transit system. Lastly, the Ponte de 25 Abril—the Lisbon suspension bridge—looks pretty freakin' similar to the Golden Gate Bridge. No surprise there—the Lisbon bridge was actually designed by the same architect. But the similarities don't stop there—from the culture (art walks and graffiti) to sippin' some café at coffee shops, the cities boast similar vibes, as well.
We recommend booking: Hotel Avenida Palace
2
Like New Orleans? Visit Rio
Colorful and full of energy? Check. Amazing food and cocktails? Check. A spot for huge festivals, nightlife, and revelry? Check check. Both culturally-rich cities offer an amazing atmosphere of good times, good food, and good people—and there's always something to be seeing or doing in both cities. And while each city also has some low-key tourist spots and attractions, both are cities for revelers, especially for Mardi Gras and Carnival.
We recommend booking: Hilton Rio de Janeiro Copacabana
3
Like San Diego? Visit Papagayo, Costa Rica
The laidback beach community of San Diego is amazing—surf and sun, anyone?—and the area of the Papagayo Peninsula, on the Gulf of Papagayo, gives off the same vibe. With local, fresh foods and water sports to try (especially surfing), many cities in the area are true beach towns and have much the same feel. Bonus: Much of the area features lavish resorts to get the best of both worlds—an escape from the world with outdoorsy activities to enjoy.
We recommend booking: Four Seasons Resort Costa Rica at Peninsula Papagayo
4
Like New York? Visit Madrid
New York is a 24/7 city. At anytime of the day you can grab food, drinks, see something extraordinary, walk around…you get the gist. And while Madrid is certainly not a 24/7 city (siestas are a thing, man), it has the same cosmopolitan feel—lived in, but buzzing, with tons of things to do and many, many things to eat. Both cities are perfect for walking around, grabbing a drink, and getting some bites (thank god for free tapas!), and both cities are (mostly) completely walkable—so enjoy the city by foot (and make sure to pack some flats).
We recommend booking: Only YOU Hotel Atocha
5
Like Miami? Visit La Havana, Cuba
No surprises here—so move quick, before our POTUS makes this trip unachievable. While tourist visas aren't available, if you book certain trips or have certain ideas in mind (i.e. helping the economy of Cuba), you can still visit. Food, history, music, art, and a chance to practice your Spanish all wait for you here—so go go go.
We recommend booking: Airbnb