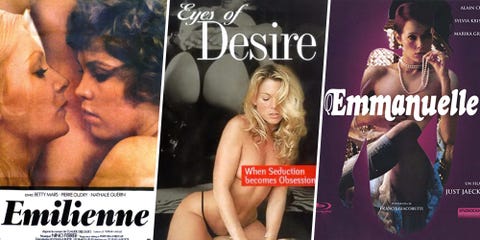 In the mood to watch porn but not *exactly* in the mood to deal with a bunch of HD penises on Porn Hub? That's where softcore pornography comes in—AKA porn for people who want a little more sensuality and slightly less sex. Softcore porn was big in the '70s, '80s, and '90s. It appears to be slightly harder to find these days, but it's still possible to watch some vintage classics—as well as some great new material. May we suggest starting with these?
1
The 'Emmanuelle' Series
The Emmanuelle movies are a series of French softcore porn films that follow a woman who wants to amp up her sex life. The original (also called Emmanuelle), which debuted in 1974, was actually the first X-rated movie distributed in the USA (shout out to Columbia Pictures). It should be noted that like many films made in the '70s, there's a lot that's iffy about this series—which has led to plenty of feminist discourse about whether Emmanuelle is a victim who's being exploited, or a woman owning her sexuality.
No softcore porn is more classic than The Red Shoe Diaries, a Showtime series (yes, fine, this is a TV show not a movie) about various women's sexual exploits—narrated by none other than X-Files star David Duchovny. The episodes are equal parts hilarious, iconic, and sexy.
1975's Emilienne is a French erotic film about a thrupple. Long story short: A man having an affair won't leave his wife for his mistress. The good news? The mistress and wife fall for each other and everyone enjoys a ménage à trois.
Winner of "Most Sensual Softcore" at the Feminist Porn Awards, this film features eight men—each of whom represents a different sexual fantasy. The Feminist Porn Awards describe Man of My Dreams as a "Choose Your Own Sexual Adventure," featuring appearances from porn tropes, like the sexy fireman, the sexy handyman, and the sexy masseur. Take your pick.
Nothing like some late '90s softcore porn, right? Eyes of Desire is about a photographer who explores some casual sexual taboos whilst staying in a "hillside mansion."
6
'The Pleasure Professionals'
Sex positive erotic film company JoyBear gifted everyone The Pleasure Professionals in 2013, and it's so good that it won the Feminist Porn Awards' that year. The film centers around "Executive Relief Consultants," which—as you may have guessed—is a special a service for businessmen and women hoping to improve things in the bedroom.
Eros isn't *necessarily* a softcore movie, but there's definitely a lot of softcore sex. The 2004 anthology features three short films by Wong Kar-wai, Steven Soderbergh, and Michelangelo Antonioni—each of which are about love/sex.