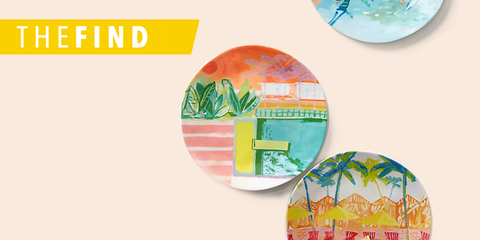 Cinco de Mayo is a day we come together to celebrate Mexican culture. There's far more to Mexican culture than tequila and tacos, but those are two magical things, so we'll be indulging them here, along with a few other items that'll make your fifth of May extra festive.
This has a secret ingredient. Okay, fine, we'll tell you: it's red wine.
Patron Añejo, $55
If you want something with a bit more character, opt for añejo, an aged tequila which is perfect for sipping (or upending into a cocktail).
Himalayan Salt Tequila Glasses, Set of 4, $28
These are the far more refined (also, less germy) version of licking salt off your wrist before ripping a rail shot.
Sunscene Melamine Dinner Plate, $10
Because tacos (or in this case, three stray limes) served on pretty plates always taste better.
Mesa Chic Mexican Napkins, Set of 6, $20
You'll look a lot more sophisticated cleaning guac off your shirt if you're using handmade napkins woven with Mexico-sourced fabric.
Rainbow Juice Glass, $8
These cups just beg you to drink fresh Greyhounds on the porch of a hacienda. Or, tap water at your desk.
Zulay Metal Lemon Lime Squeezer, $17
You may already have this kitchen essential, but does yours come in hot pink?
Cantina Carafe, $38
Use it for water (which you'll need after all that rim salt) or to pour Palomas.
LulaFlora Mexican Fiesta Paper Straws, $17
An easy way to make a pretty drink even prettier: a straw with flair.
Seedsheet Taco Kit, $35
Your very own mini farmers market, this grow kit contains all the produce needed for a tasty taco: cilantro, scallions, radish, arugula, and mustard greens.