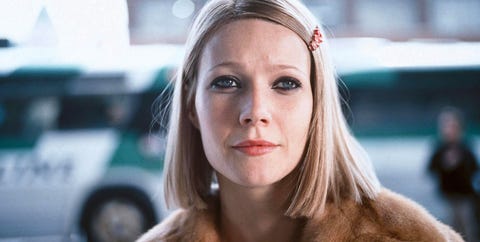 Everett
James Hamilton/Touchstone/Kobal/REX/Shutterstock
In college, less was more when it came to Halloween. I would walk out in my fairy costume, which was just a sequin green minidress with wings, without a coat on, in 50 degree weather. It was either brave the cold or risk having a stranger spill jungle juice on my jacket, so I braved it. I survived all four years of wearing barely-there costumes, huddling with my friends as we waited for car rides to frat parties.
Fast forward and I can not imagine leaving my house on October 31 in anything other than my puffer coat. I now pick out my costumes based on the level of warmness it provides. A koala animal onesie? Very warm. A "sexy" Alice in Wonderland dress? Not so warm.
Though I am tempted to dress up as a koala again, I do want to try a new costume this time around. Thus, I came up with several cute yet cozy and warm Halloween outfit ideas. The looks all center around a jacket or coat. If you hate the cold too, join me in staying covered up on Oct. 31.
For Julie Andrews' Mary Poppins outfit, all you need is a long navy coat, red stripe, scarf, and, of course, an umbrella. This will come in handy should it rain or drizzle on Oct. 31.
Cole Haan drap coat, $180
Missoni knit fringe scarf, $26
Sole Society duffle bag, $70
Black umbrella, $42
Even if you haven't watched the movie The Royal Tenenbaums, chances are you've seen this Gwyneth Paltrow look, especially around Halloween. Her character Margot, in the Wes Anderson film, wore this iconic outfit, which you can easily recreate with a few pieces.
Majorelle faux fur coat, $258
Portolano cashmere gloves, $85
Rebecca Minkoff satchel bag, $173
Kate Middleton is the queen of outerwear and gravitates towards classic coats with peter pan collars or double-breasted button designs. Use Kate's feminine pink look from 2015 as inspiration for channeling your inner royal. Don't forget a matching fascinator.
Giorgia & Johns coat, $84
Marks & Spencer floral fascinator, $64
Steve Madden pumps, $90
Do you think Katniss Everdeen is afraid of the cold? Of course not, she has kickass leather jacket. Channel your own inner warrior with a similar look. One prop you definitely need in your costume? A bow and arrow.
Guess faux leather jacket, $60
Treasure & Bond gray tee, $25
H&M jeans, $30
Bow & Arrows prop, $17
Tap into your villainous side for Halloween by channeling Cruella de Vil. If you get too warm in your furry white coat, take it off to reveal your black dress underneath.
Shrimps coat, $284
Boohoo black dress, $20
Dents leather gloves, $69
Who could forget Meghan Markle's engagement photo call outfit? If you're a fan of the royal, you'll definitely want to re-create this special look—it was the first time the public saw her engagement ring.
Kendall & Kylie trench coat, $200
CeCe green dress, $139
Lulus beige lace-up heels, $44
Willy Wonka and candy go hand in hand, so dress as this fictional character for Halloween. People won't expect this #throwback outfit and you might just win best dressed at the party. If not, drown your sorrows with a handful of Reese's Pieces.
Purple velvet duster, $101
Shein white pussybow blouse, $17
Brown top hat, $6