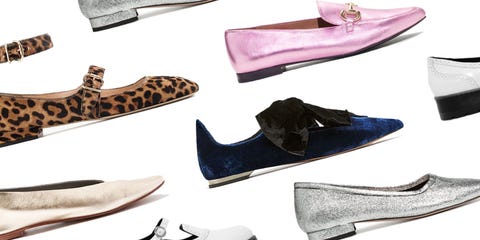 Courtesy, design by Monica Park
Whenever you're feeling bummed about taking public transportation to work—likely, given that this is another way this is the Summer of Hell—. Then, maybe consider getting up earlier to walk there, a possibility if you pick up a pair or two of the following flats that are comfortable enough for passing slowpokes (take them already, Darwinism) and presentable enough for the 9 a.m. meeting you're still going to be late for.
When you have to do some Excel sheets at 4 and be at the Arnolfini marriage by 7.
Zara, $40
BUY IT: .
"I'm you but stronger." —this guy to last year's glove shoe
Topshop, $60
BUY IT: .
Fancy but not fancy, you know?
& Other Stories, $125
BUY IT: .
Another way to let slow walkers know that they will soon be carried off by natural selection is to just keep traveling at a normal speed, which might mean the pointed toes of your flats might accidentally ram into their ankles. Oops!
Vagabond, $130
BUY IT: .
👌 at the design-to-price ratio.
ASOS, $72
BUY IT: .
A little funereal (because you're going to work), but make it fun (with studs and plush velvet, mmhmm).
Mango, $80
BUY IT: .
Somewhere, Alexa Chung is kicking herself for not having designed these first.
J.Crew, $258
BUY IT: .
Wear to the office. Keep wearing to the places you'd rather be, AKA not the office.
H&M, $60
BUY IT: .
Say millennial pink one more time. I dare you.
Dieppa Restrepo, $295
BUY IT: .
Because the '90s/aughts are back in every other way.
Charles & Keith, $49
BUY IT: .