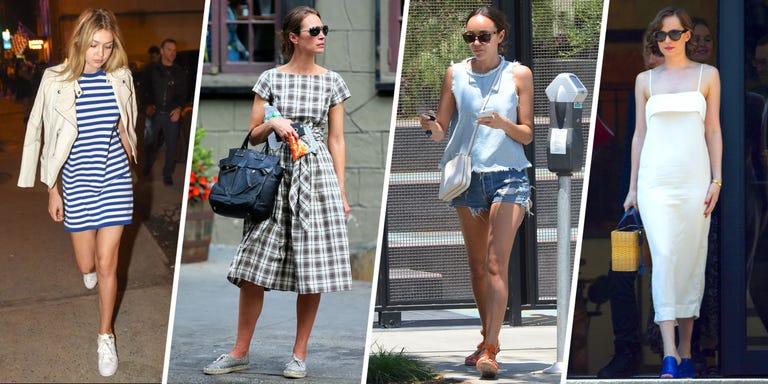 Here's the plan for this Independence Day: While everyone else commits what should be classified as high treason against the state *and* against fashion, there will be nary a star on your body. (Stripes are okay.) You will look chic, well-ventilated, and casual, but you will not think about anything more than whatcocktail you'll try next. And why is that? Easy—we've done all the work for you.
The white eyelet lace and the scalloped shorts are pretty, but not overly stuffy.
SHOP THE LOOK:
Alice + Olivia, $105
BUY IT: .
2
The Battle of the Navies
Double navy, but more so Boogie Nights than Canadian tuxedo. Extra points for the '70s-style high waisted denim.
SHOP THE LOOK:

Poshmark, $10
BUY IT: .
A more stylish way of wearing nautical stripes without it skewing too stars-and-bars.
SHOP THE LOOK:

Chaus, $64
BUY IT: .
4
The Deconstructed Button-Up
Don't simply put your arms in both sleeves: celebrate another kind of emancipation with a breezy off-the-shoulder top (pro tip: an oxfordshirt shifted and buttoned up the side works too).
SHOP THE LOOK:
Pinko, $415
BUY IT: .
Further proof that matchy-matchy outfits are the cool-girl style of the future.
SHOP THE LOOK:

Maeve, $88
BUY IT: .
Wide-leg denim overalls + a white tee = easy sophistication and sleeveless freedom.
SHOP THE LOOK:

FRAME, $210
BUY IT: .
For non-BBQ Independence Day events, there's Dakota Johnson's breezy-yet-polished Apiece Apart dress ensemble. The blue mules give a nod to the proceedings, while the wicker basket evokes the grand American tradition of day-drinking outside.
SHOP THE LOOK:

Apiece Apart, $320
BUY IT: .
Attention, tank-and-shorts girls: Ashley Madekwe's modified co-ords—a raw-edge denim tank and similarly distressed cutoffs—are how you look slightly more put-together/festive.
SHOP THE LOOK:

GRLFRND, $148
BUY IT: .
We've said it before, and we'll say it again: drape your jacket over your shoulders à la Gigi Hadid, and even the most basic of outfits feels instantly cooler.
SHOP THE LOOK:

Guess, $128
BUY IT: .
1. Espadrilles beat flip-flops any day.
2. Even with the defined waist, A-line is still a great shape for girls planning to park themselves by the grill. (Who, me?)
3. I pledge allegiance to Christy Turlington Burns.
SHOP THE LOOK:

Neiman Marcus, $69
BUY IT: .