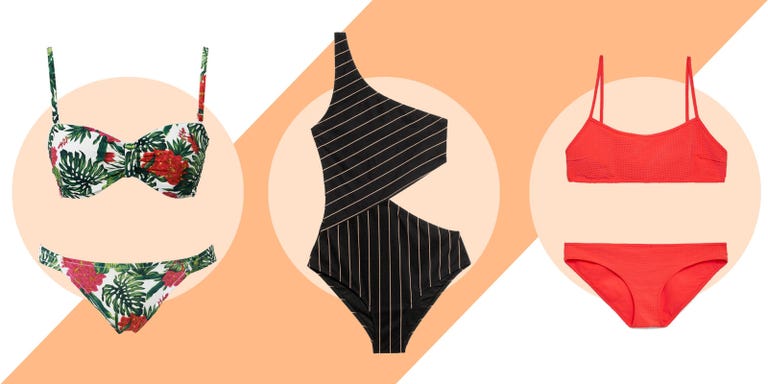 Courtesy, design by Monica Park
Now that you've bought the plane ticket and booked the hotel, the last thing you want on your vacation is to spend another small fortune on your swimwear, right? If you're in the market for ones that won't rack up any buyer's remorse, look into these *budget* bathing suits that all fall under $100 (though you'd never guess it).
Party in the front, party-er on the (open, lace-up) sides.
Zara, $36
BUY IT: .
You are not dreaming—that does say two whole buckaroos, my friend.
Princesse Tam Tam x Uniqlo top, $2; bottoms, $2
BUY IT: ; .
Straight out of an beach Italian holiday soundtracked by Franco Battiato.
Triangl bikini, $99
BUY IT: .
While that last suit has been worn by Cara Delevingne, this one's fans include, like, every other model, including Alessandra Ambrosio and Elsa Hosk. It'll look even nicer on you.
Gooseberry Intimates, $99
BUY IT: .
The only pinstripes we want to see until September, ya hear?
H&M, $30
BUY IT: .
Those little ruffly shoulders—and the ruffly butt™.
J.Crew top, $40; bottoms, $35
BUY IT: ; .
Ready for making a soft-drink commercial or bad decisions or whatever.
COS top, $35; bottoms, $20
BUY IT: ; .
Adore the henley-like details, because it's like long johns if they went south for the winter.
Out From Under top, $30; bottoms, $42
BUY IT: ; .
You didn't do all those planks to *not* frame your abs with summer's MVP color combo.
Zara, $4
BUY IT: .
An interesting botanical print in a family-friendly cut.
Finery London, $69
BUY IT: .
Because you can't wear track pants to the pool. Or can you?
H&M top, $10; bottoms, $8
BUY IT: ; .
The Hervé Leger of swimsuits, which is just on the verge of coming back, according to our Spidey senses.
Boohoo, $15
BUY IT: .