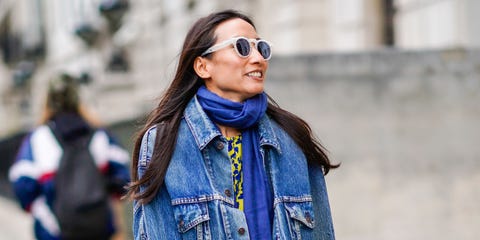 Edward Berthelot
Getty Images
My fall must-have list looks a little something like this: cropped jeans, a beige sweater, combat boots, and a new handbag (someone please get me this mini Balenciaga tote!!). Getting a new scarf didn't even cross my mind because I already own three thick ones...do I really need more? But alas, a scarf is both fashionable, adding an extra color or print to your outfit, and functional (without one your neck would be freezing). So, yes, I do need a new fall scarf. And so do you. How about one of the 12 cute options, below?
Acne Studios checked logo scarf, $340
Acne Studios just launched its newest fall/winter scarves and I have my sights set on this logo piece. Instead of including the care information on a white tag like everyone, the brand printed it directly onto the scarf itself—unique and cool. Though the accessory is pricey, I'm still adding it to my wishlist. (And also, sending this story to my BF TONIGHT.)
Aqua metallic puffer scarf, $48
Puffer jackets are in this season and now the style has trickled down to scarves. Wrap this plushy thing around your neck, and you'll be so warm you'll think you're in the tropics (almost? pretty please?). The metallic finish makes a bold statement, so don't be afraid to style this with a simple wool coat to balance things out.

Tory Bruch silk scarf, $68
Who says you can't wear florals in the wintertime? This navy print suits the moodiness that comes with the change of seasons. And the best part: It looks luxe thanks to the silky material, but it's quite affordable. Wear with your blazer to work or on the weekends with a plain white T-shirt. Versatile!
Naadam cashmere oatmeal scarf, $125
Everyone needs at least one neutral-colored scarf in their arsenal, which is where this Naadam piece comes in. It's your no-fuss, match-with-everything fall accessory. The cashmere piece even comes in an additional three colors (camel, gray, and black) in case you want to expand your color palette.
Kate Spade New York things we love scarf, $98
This playful Kate Spade New York scarf features a fun mix of every day items (and animals) we love. My personal favorites? The dog and the bottle of rosé, obviously. And with such an array of designs, the accessory will definitely appeal to everyone on your gift-gifting list—especially those who take themselves too seriously. So, put in your orders now and then pass this out around the holidays.
Madewell x Karen Walker floral bandana, $15
Bandana fanatics will need to get their hands on this piece from Madewell's new collab with Karen Walker. The New Zealand designer is known for her charming offbeat details and this cotton bandana is a recolored version of one of her retro floral patterns. Style with with a denim button-down shirt and white cowboy-inspired boots.
7
A Rainbow Striped Scarf
Madeleine Thompson striped scarf, $380
Wrap this rainbow cashmere scarf around your neck when you're tying to bat away the rainy day blues. The multicolored stripes and vibrant hues add a child-like quality to the scarf, but make no mistake, grown ups will go crazy over this piece. Or, at least this adult.
Irving faux fur scarf, $90
With this furry scarf around your neck, you might not even need a piece of outerwear. This Irving scarf is crafted from faux fur with a black-and-blue design. It can fasten in the front to give your ensemble an immediate sense of chicness, or be worn open for a more relaxed look with a sweater and pants.
Rebecca Minkoff paisley silk scarf, $36
This red-paisley-swirl-silk neckerchief is the fashion-girl version of a traditional red bandana. And more my style. The rich hue and material seem luxe and soft (unlike the one I wore at Coachella) without that exorbitant price tag. This designer piece is only $36!
BP leopard print scarf, $19
If the thought of wearing a leopard printed dress is too overwhelming, ease into the look with this lightweight scarf. The print is as classic as polka dots but with a little more fierceness. It's also one of fall's top trends for 2018. Style with a denim jacket and black suede ankle boots.
& Other Stories neck scarf, $55
Shop this triangle print scarf from & Other Stories for an unassuming everyday neck accessory. It's slightly more fun than your regular ol' beige number, but just as wearable thanks to the muted gray and white hues. Adding to my checkout cart asap.
Isabel Marant plaid scarf, $175
If you've said no to leopard prints, no to the rainbow stripes, and no to polka dots...I have one last design to suggest: plaid! It's easy to wear and feels as cozy as your favorite flannel. If you're mad for plaid, wear the two prints together!