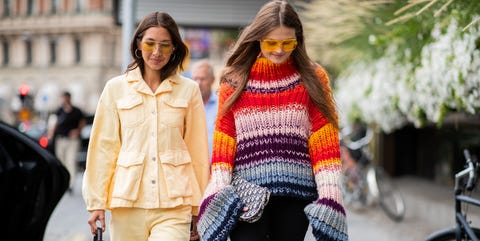 Christian Vierig
Getty Images
Welcome to fall: The time of the year when it's socially acceptable to wear the same sweater to the office three days in a row. That said, you're going to need to build up a collection of comfy, chunky knits in a range of silhouettes if you want to show your co-workers how you really do fall (and, because, you know, after fall comes winter and then you're really going to need a sweater). Reserve the big bucks for a new winter coat and shop these affordable, chic sweatshirt options below.
Everlane, $85
A v-neck sweater that's perfect for the not-super-chilly days, but still über cozy. Tuck it into a pair of jeans, skirt, or totally let it hang free—that's the beauty of this sweater's relaxed fit.
Line, $99
How to go to the bar without freezing 101: Wear this off-the-shoulder fringed sweater that's —bonus—currently on sale.
4
We'll Always Have Paris
& Other Stories, $69
When it's time to take a break from the knits, whip out this chic graphic pullover that's made to live in on the weekends.
Wilfred, $128
A moment of silence for the adjustable tie that comes on this soft wool blend sweater.
Zara, $60
Introducing the round-neck, classic cable-knit sweater that's just begging to be paired with jeans and knee-high boots.
Urban Outfitters, $59
If you're looking to stand out in a sea of turtlenecks, reach for this relaxed-but-not-oversized number. The three-quarter sleeves are also ideal for showing off the bracelets and watches that are often hidden in the fall and winter months.
8
Back to Black (and White)
Rag & Bone, $250
Black-and-white doesn't have to be boring. This Rag & Bone colorblocked pullover proves it.
Topshop, $68
It's. So. Fluffy. Wear this cropped sweater when you're feelin' blue.
10
The Capsule Collection
Free People, $148
A black turtleneck like this cozy, wide-sleeve one is an essential piece in every woman's capsule wardrobe. If you haven't already made room for it in your closet, now is the time.
Sunday Best, $68
Wear your heart on your sleeve chest with this classic embroidered wool sweater.
Vanessa Bruno, $360
Okay, so it's not the most affordable option, but there's something about this navy and white-flecked pattern that screams, "Fall!" C'mon, just look at it.
Topshop, $65
Live out your prep school nightmare dreams and channel every royal family member who has ever existed in this sporty, v-neck sweater.
14
Cherry Cherry Boom Boom
Free People, $360
We've already declared that , so why not continue the fun through fall?