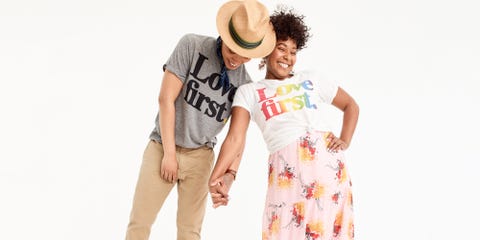 Say it with me: Love is love is love is love. June is Pride Month—the time was chosen to commemorate the , which occurred June 1969—and brands are participating in the celebration by releasing rainbow-themed merchandise.
If you think you don't need another T-shirt or tote bag, well, let me assure you, you can always stand to have one more. Because now's your chance to shop with purpose. Sales and proceeds from the 10 Pride items below benefit organizations dedicated to helping the LGBTQ community, including the Harvey Milk Foundation, the Human Rights Campaign, and The Trevor Project. And if you're not into any of the products, you can just make direct donations to the foundations of your choosing. Shop with #noregrets, below.
Levi's marked its fifth anniversary of the brand's Pride collection by releasing graphic tees, accessories, and another version of its iconic denim trucker jacket—this time featuring rainbow embroidery. The theme is "I AM _" and go to the Harvey Milk Foundation and Stonewall Community Foundation.
Levi's, $148
Wear this limited-edition unisex shirt every weekend in June (and beyond). The LOFT tee features a row of rainbow hearts on the left side and the words "love is proud," on the back. Fifty percent of the purchase price will be donated to GLSEN, a national education organization that works to create safe and inclusive schools for LGBTQ students.
LOFT, $34
3
A Pair of Rainbow Socks
Show your support for the community year-round with these rainbow socks. Fifty percent of the retail value of your purchase will be donated to the Human Rights Campaign—the largest national lesbian, gay, bisexual, transgender, and queer civil rights organization.
J.Crew, $15
San Francisco-based brand Marine Layer teamed up with The Trevor Project to create this limited-edition "Giving Tee," for the month of June. For each shirt sold, the retailer will donate $15 to The Trevor Project—the world's largest suicide prevention and intervention organization for LGBTQ youth.
Marine Layer x The Trevor Project, $45
For pride month, Warby Parker released he Haskell Prism, a limited-edition collection of sunglasses in every color of the rainbow, a symbol of LGBT pride and social movement, with pieces starting from $95. In honor, Warby Parker will make special donations to The Trevor Project and Lambda Legal.
Warby Parker, $95
Mignonne Gavigan's rainbow brooch is made with glass seed beads and comes in exclusive pride colors. The accessory is the perfect way to celebrate pride month everywhere you go. Pin it onto your denim jacket (maybe that Levi's option, above?) or tote bag. Fifty percent of the proceeds from the sale will go to the Stonewall Community Foundation.
Mignonne Gavigan, $125
This month, add one more tote bag to your ever-growing collection. Madewell created a reusable "love to all" canvas tote in rainbow colors (of course) in support of pride celebrations. The retailer will donate 50 percent of the retail value on all purchases to the Human Rights Campaign.
Madewell x Human Rights Campaign, $10
H&M's pride collection features a bevy of products from painted-splattered denim shorts to striped track pants and pullovers. This "love united" pride hoodie comes in an understated beige hue with rainbow stripe details on the sleeves. Ten percent of global sales will go towards the United Nations Human Rights Office UN Free & Equal campaign.
H&M, $25
Zac Posen collaborated with Instagram artist Ben Smith to create several amazingly vibrant hand-painted purses for pride month. The styles, exclusively sold on GILT.com, include Posen's signature top-handled tote and a crossbody bag. Ten percent of the proceeds from each bag sold will go the Elizabeth Taylor AIDS Foundation and GILT will make a $3,000 donation to the foundation as well.
ZAC Zac Posen, $995
Banana Republic printed the powerful "love is love" phrase on its limited-edition tees as part of its pride capsule collection for the month of June. Banana Republic and Gap Inc. will donate $5 from the sale of each shirt to the to support Free & Equal, a U.N. Human Rights Office campaign for LGBTQ equality.
Banana Republic, $34