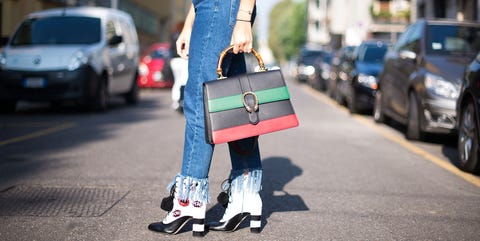 You'll find me in black high-waisted skinny jeans year-round—they're my denim crutch. But lately, I've been eyeing that pair of lightly-washed fringe bottoms in my closet. I bought the jeans last year, when I told myself I'd give the trendy style a try, only to continually reach for the same three pairs I've had forever.
Fast forward to now and the fringe piece is silently judging me for having not worn it. I almost donated the pair to Beacon's Closet (where it can join my clothes from yesteryear) when a little voice inside me said "stop." I realized it's not that I dislike the jeans, I just need inspiration for how to wear them. Via some street style research, I've found five different ways to style fringe jeans—all of which I'm planning to re-create asap. I challenge you to do the same with yours.
1
The "Out-of-Office" Outfit
What's an easy way to feel comfortable in any (slightly) out-there style, you ask? Wear all black. I know the weather is warm, so reach for a sheer bodysuit with a bralette underneath for coverage. This look is sexy without showing too much skin, though you can always throw on a navy blazer—the color is almost as versatile as black. Finish with a pair of smart-looking mule pumps for an outfit that says, "I've got this trend on lock."
Shop similar pieces: 1. , $198; 2. , $16; 3. , $1,044; 4. , $32; 5. , $80
2
The "I'm Window Shopping" Outfit
One of the most popular hem styles for fringe jeans is the kick-flare. To balance out all the fuss happening in your lower half, wear a breezy floral blouse in a bright color on top. A pair of heeled sandals helps you stand tall and confident in your trendy look. Now where's that street-style photog?
Shop similar pieces: 1. , $278; 2. , $195; 3. , $59
3
The "I'm Getting Coffee With Friends" Outfit
The trick to keeping a fringe-jean look from swerving into too trendy territory is to wear the bottoms with classic pieces, like a timeless trench coat and a pair of white Stan Smith kicks. Then, throw on a graphic tee (I own so many, it's almost a no-brainer to pair one with fringe jeans). When you step back to examine your look from head to toe, you'll see how all the items complement one another.
Shop similar pieces: 1. , $99; 2. , $264; 3. , $106; 4. , $56
4
The "I'm Going to Fashion Week" Outfit
The top you pair with fringe jeans can be equally unique or as plain as a simple white tee, depending on how funky you want to go. I love the idea of a high-neck collar shirt, especially one decked out in florals for all those summertime vibes. Swap out your black booties—they're more appropriate for winter—for a pair of white ones. Then, get your BFF to take a pic of you because this outfit deserves some Instagram likes.
Shop similar pieces: 1. , $255; 2. , $392; 3. , $170
5
The "I'm Going to a Baseball Game" Outfit
You can wear your fringe jeans anywhere, anytime. Chiara Ferragni wore her's to Fashion Week, but I'll wear this bomber jacket and denim combo to an outdoor concert or sporting event. It's athletic, yet still speaks to my fashion girl soul, thanks to the on-trend Golden Goose sneakers and Kenzo outerwear. Now, where's my hotdog and coke?
Shop similar pieces: 1. , $312; 2. , $295; 3. , $256