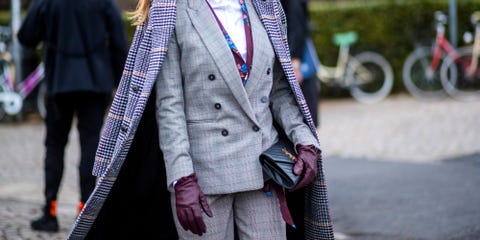 When we consider a "heat wave" anything above 30 degrees, getting dressed for work seems like is a completely daunting task. Wearing the same turtleneck and jeans five times over becomes the new office uniform, and before we know it layering feels like a second job. Don't let your wardrobe suffer with the weather—get inspired with these seven chic options.
The Soft Classic
A pink cashmere softens the classic leather look, giving you the pop of color you need to combat dreary weather.
Jump On It
The jumper isn't just a summer staple. Throw a turtleneck underneath, add an amazing patent leather jacket, and you'll look like the coolest gal in the office.
Effortless Chic
We would live in turtlenecks year-round if we could. Skip the blackout and add a statement bootie instead.
The Low Down
Pair the colorblocked dress of your dreams with a camel trench coat for an extra layer of warmth, and suddenly you have two outfits in one.
Diane von Furstenberg, $329
Geometric Wonder
This geometric skirt does wonders for our eyes and our hearts. Don't forget to add the tights!
Buttoned Up
Taking business casual to new lengths with these thigh-high boots. 💯
Casual Fridays
The office pairing that doubles as a weekender and seamlessly transitions from work day to night out. The embroidery alone will make you forget you're wearing a blazer (which is totally optional these days, anyways).
У нашей компании популярный веб сайт , он описывает в статьях про
https://sellmax.com.ua
.
Нашел в интернете полезный интернет-сайт , он описывает в статьях про
https://sellmax.com.ua
.
В интеренете нашел важный сайт на тематику
https://sellmax.com.ua
.