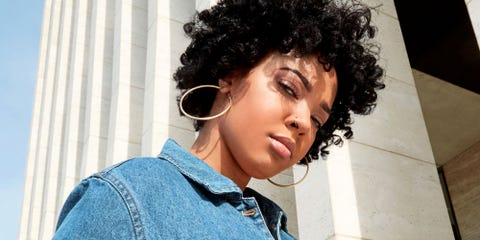 It seems that finally—yes, in 2018—brands are beginning to understand that 1) People do, in fact, have curly hair, and 2) They probably want products specifically formulated for their curl type and texture. And while there are already a ton of great products on the market for your ringlets and coils, I'm here to introduce you to five of the newest (and most excellent) formulas that you, too, will be obsessed with. Ahead, a look at your new VIP lineup.
1
This Curl-Refreshing Spray
Miss Jessie's Curls So Fresh Refreshing Spray, $11
Once in a blue moon, when Jupiter aligns with Saturn and the universe decides to bless you, you wake up with gorgeous, perfect, second-day curls. For every other day, though, use this refreshing spray, which re-hydrates dry, pulled-out curls with a mix of water and glycerin, while adding shine and definition with the tiniest bit of tamanu nut oil. Just spritz it all over your dry hair until slightly damp, scrunch and twirl curls, then let dry.
2
This Hydrating Shampoo and Conditioner
Pantene Gold Series Shampoo, Conditioner, and Co-Wash, $6–$9 each
It's hard to pick just one favorite from Pantene's Gold Series line, because each of the curl products (all sulfate-free) is really, truly spectacular—and affordable. Finer curl types should try the lightweight , which gently cleanses curls (without stripping them) using coconut-derived detergents, while coarser, drier types may opt for the richer , which moisturizes curls with a major dose of argan oil.
And all curl types can use the , which uses water-soluble silicones and argan oil to smooth frizz and hydrate coils without weighing them down. Pick your combo, and get your shampoo/conditioner needs covered for cheap.
3
This Leave-In Conditioner
DevaCurl Leave-In Decadence Conditioner, $26
Some leave-in conditioners can make curls feel greasy and heavy, but this fresh-scented formula strikes the perfect balance between rich and lightweight. Tigernut milk (yup, that's a thing) hydrates hair, while coconut oil and pequi oil seal in the moisture for all-day frizz control.
4
This Smoothing Curl Cream
Kerastase Discipline Cream for Curly Hair, $32
Though curls are definitely not something that ever need to be "disciplined" or "tamed," I'll allow it in this product name, solely because the formula is that good. The thick cream is filled with surprisingly lightweight palm oil and seed butter that work to smooth curls and add shine without leaving them lank and greasy, along with hydrolyzed wheat protein, which acts as a static-preventer. Smooth it over damp or dry hair, avoiding the roots, and let air dry.
Crème on Nature Pure Honey Moisture Whip Twisting Cream, $7
Whether you're finger-styling your wash-and-go curls or twisting-out your coils, this styling cream keeps your hair moisturized and smooth (without the crunch), thanks to shea and mango butters, and coconut and argan oils. Just rake a heaping dollop through damp hair, section by section, and then wrap it up in a protective style, or pull on each curls as they air-dry to elongate them.