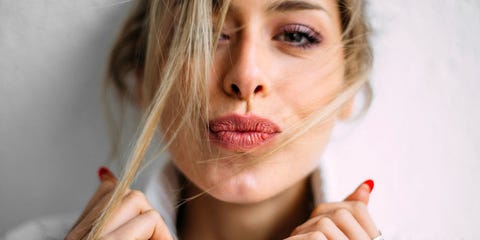 When's the last time you got really, truly excited about a lip balm? I'm guessing it was sometime in 2003, when you spent your birthday money on a glittery Limited Too stick that you immediately lost. Fun times. Welp, the world of balms has come a long way since your middle-school days, and today's formulas are now available in tinted or sheer, long-lasting or quick-dry, and cheap or pricey—basically, any combination you could ever want.
And to make the sorting process a billion times easier, I present to you the nine very best balms, stains, salves, and crayons you'll actually get excited to slather on each day.
1
This Glow-Inducing Stick
Addict Lip Glow Color Reviving Lip Balm, $34
It's no secret that I'm obsessed with this balm. It's not too shiny or sticky, it doesn't smell like cupcakes and 2003, and it doesn't give you that gunky white line around your lips after a few hours. And, most importantly, it leaves your lips with the prettiest glow—I know, I know, but there's no better word for it—that sticks around through lunch (and second lunch).
Rebels Refinery Geometric Lip Balm, $6
Alright, alright—aside from its adorably on-trend packaging (PINEAPPLES!), this 100 percent natural lip balm is perfect for anyone who wants major moisturizing powers in a nommy flavor. It's formulated with coconut and sweet almond oils to protect and soften lips, along with a mix of extracts that give it a mango and strawberry taste. Basically, this isn't like a regular balm—it's a cool balm.
Burt's Bees Beeswax Lip Balm, $3
I mean, I can't not include this magical, amazing, cult-favorite lip balm, because it's the only formula I want to be buried with. The formula is incredibly simple: A mix of coconut, lanolin, peppermint, and sunflower oils, plus a bit of beeswax, all working together to moisturize and protect your lips without a ton of fragrance or flavor.
Fresh Sugar Tinted Lip Treatment SPF 15 in Ruby, $24
Once upon a time, a lip stain and a lip gloss fell in love, got married, and created this baby tinted balm. The stain-gloss formula is perfectly hydrating, not at all sticky, and comes in 12 bright shades—ranging from pale rose to deep wine—that are so sheer and pretty, they'll look good on every skin tone.
Glossier Balm Dotcom, $12

I know the immediate draw of Glossier products is the Instagrammable packaging, but this thick salve is worth more than a photo. It's formulated with castor seed oil, beeswax, and lanolin that make it easily spreadable, so you can use it everywhere—across your cracked lips, over your ashy elbows, or even along your cheekbones for a natural highlight.
Too Cool For School Dinoplatz Lip Balm, $15

Don't let the whimsical packaging fool you—this tinted lip balm has serious benefits. It wards off chapped lips with nourishing evening primrose oil, while leaving behind a subtle rosy shine thanks to its argan oil base. Layer it over nude lips or matte lipstick for added depth and moisture.
Supergoop! AcaiFusion Lip Balm SPF 30, $10
If sun protection is a high priority for you when reaching for a lip balm (as it always should be), look to this clear, shea butter–based formula that won't leave your lips pasty, despite being loaded with SPF 30.
Clinique Chubby Stick Intense Moisturizing Lip Color Balm, $17
Balm meets lipstick in this tinted crayon that delivers all-day hydration (thanks to combo of mango butter and shea butter), along with a surprisingly pigmented layer of color. Even the palest of the eight shades, Curviest Caramel, will leave lips with a subtle, yet long-lasting stain.
Smith's Rosebud Salve, $7

This multitasking retro salve is easily the cultiest of cult-favorite beauty products (even Beyoncé has openly admitted to on her lashes), and reason is clear: You can truly slather it anywhere. At least, anywhere you want a rosy wash of color (and scent)—like over the apples of your cheeks, on the center of your eyelids, or even raked through thick eyebrows for shine and hold.