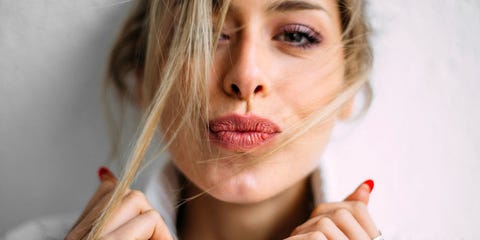 I'm willing to bet that right now, there's an old purse hiding in the back of your closet that's filled with a graveyard of forgotten, lint-covered lip balms (RIP 2007 Lip Smackers). For whatever reason, each of those tubes failed to earn VIP status in your makeup bag, and I'm guessing it's because they, like most balms, were thoroughly underwhelming.
But the thing you slather on your lips five times a day should inspire more than a, "Eh, it's fine," response—it should give you the perfect wash of color, or magically heal cracks over night, or, at the very least, keep your lips hydrated for more than 15 minutes. Which is why I'm sharing with you my seven favorite balm stains, tinted crayons, and clear salves whose formulas are anything but forgettable.
Burt's Bees Beeswax Lip Balm, $3
I mean, I can't not include this magical, amazing, cult-favorite lip balm, because it's truly the one lip product I always have on hand. The formula is simple, yet effective—a bunch of oils (coconut, lanolin, peppermint, and sunflower) mixed with beeswax, all working together to moisturize and protect your lips.
Fresh Sugar Tinted Lip Treatment SPF 15, $24
If a lip stain and a lip gloss had a baby, it would be this tinted balm (and also a G'DAMN MIRACLE). It's perfectly hydrating, not at all sticky, and comes in 12 bright shades—ranging from pale rose to deep wine—that are so sheer and pretty, each one will look good on every skin tone.
Glossier Balm Dotcom, $12

I know the immediate draw of Glossier products is the Instagrammable packaging, but this thick salve is worth more than a photo. It's formulated with castor seed oil, beeswax, and lanolin that make it easily spreadable, so you can use it everywhere—across your cracked lips, over your ashy elbows, or even along your cheekbones for a natural highlight.
Too Cool For School Dinoplatz Lip Balm, $15

Don't let the whimsical packaging fool you—this tinted lip balm has serious benefits. It protects chapped lips with evening primrose oil, while its argan oil base leaves behind a subtle shine that looks even better layered over lipstick.
Supergoop! AcaiFusion Lip Balm SPF 30, $10
If sun protection is a high priority for you when reaching for a lip balm (as it always should be), look to this clear, shea butter–based formula that won't leave your lips pasty, despite being loaded with SPF 30.
Clinique Chubby Stick Intense Moisturizing Lip Color Balm, $17
Balm meets lipstick in this tinted crayon that delivers all-day hydration (thanks to mango and shea butters), and a surprisingly pigmented layer of color. Even the palest of the eight shades, Curviest Caramel, will leave behind a definitive stain.
Smith's Rosebud Salve, $8

This multitasking retro salve has been heralded as one of (even Beyoncé has openly admitted to on her lashes), and its appeal is clear: You can truly use it anywhere. At least, anywhere you want a rosy wash of color (and scent), like over the apples of your cheeks, on the center of your eyelids, or even raked through unruly eyebrows for shine and hold.