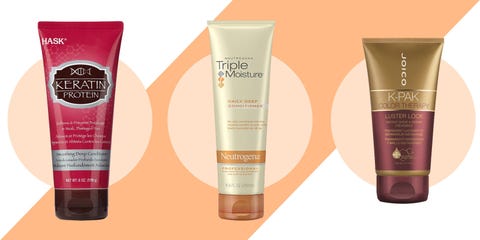 Not all deep conditioners are made equal. But you probably already figured that out after that one time you slathered on a seemingly innocent formula and were left with greasy, lank strands, or stiff, bone-dry curls. Because surprisingly—get ready for this—the ingredients in the bottle really do matter. Whaa? Yup. So to make the search easier for you, we broke down the best deep conditioners for your hair type, ahead.
Whether you've got super-thin waves or crazy-flat curls, you want a deep conditioner filled with lightweight hydrators, like jojoba oil and aloe, that will simply penetrate the hair shaft, rather than coating it and weighing it down.
Aussie 3 Minute Miracle Moist Deep Conditioner, $5
BUY IT: .
A cult-favorite for a reason, this creamy conditioner has just enough sweet almond oil and olive oil to deeply hydrate and soften hair, without feeling heavy or greasy after you rinse it out.
Neutrogena Triple Moisture Daily Deep Conditioner, $5
BUY IT: .
Coarse strands need a hefty dose of rich oils to keep them from puffing out, like the mix of lanolin and coconut oil in this keratin-rich conditioner. And don't worry—it won't actually loosen curls or waves, it'll just help smooth frizz.
Hask Keratin Protein Smoothing Deep Conditioning Tube, $6
BUY IT: .
Fun fact: All deep conditioners (and regular daily conditioners) are actually safe for color-treated hair, since they don't contain color-stripping sulfates. So pick a formula that actually enhances your dye job, like this shine-depositing conditioner with argan and manketti oil.
Joico K-Pak Color Therapy Luster Lock Instant Shine and Repair Treatment, $16
BUY IT: .