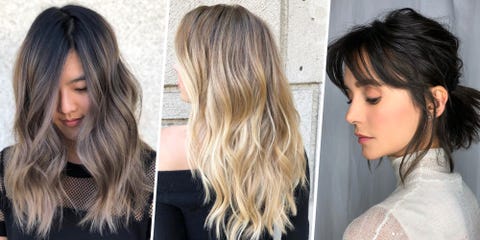 We're only three months into 2018, and we've already fallen in love with more hair colors than we usually do in an entire 12-month span—and you will, too, once you see the vibrant lilacs and raven blacks that are about to fill your feeds. So to help you get ahead of the trends, we broke down the six most inspo-worthy looks, below. Get your colorist's number ready before your sister, your cousin, and your barista beat you to them.
If the streets and runways of fashion month mean anything (they mean everything), bright lilac hues are about to infiltrate your friend group. Surprisingly, the shade is pretty easy to wear, thanks to its color-correcting blue undertones, which give your skin an overall brighter appearance.
Warm, honey shades continue to reign as this year's most sought-after blonde, and you'll be seeing a spike in sun-kissed golden-ombré hues come summer. And with grungy, exposed roots still in style and acting as the ultimate grow-out disguise, blonde has never been so low-maintenance.
We hate to say it, but the soft, strawberry-blonde hues and rose-gold highlights of 2017 are already slipping into the ether of forgotten hair color trends. But don't freak, pink lovers—they'll be replaced by deeper shades in the same family, like fiery crimson.
Good news for your inner emo kid: Rich, jet-black hair will be covering the heads of some of your favorite celebrities this year, and we're not just talking about Pete Wentz. The 2018 take on the trend reads less Hot-Topic-enthusiast and more badass-hair-chameleon, especially when coupled with a choppy lob (à la Nina Dobrev).
Not quite ready to go full-on My Chemical Romance with a single-processed black? Meet your middle ground: ash brown—the love child of deep, chocolate brown and muted, slate-gray.
We took a a much-needed breather from platinum last year, but predict 2018 will see a steady uptick in Ice Queen–level white-blonde. At this rate, it's safe to say this shade will carry us into the new year—and yes, we're already thinking of that far ahead.