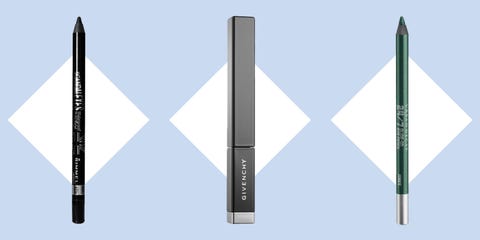 If you're a cat-eye freak like us, you live and breathe by your favorite eyeliner and you probably don't leave the house without a swipe/stroke/smudge of your go-to. Below, we round up our favorite brands and colors, from our "don't care, need it" splurges to our drugstore-binge purchases.
1
Marc Jacobs Highliner Matte Gel Eye Crayon
"Nothing lasts throughout the day like a matte gel and these waterproof crayons smooth on like butter for precise graphic eyes *or* can be smudged out for a smokier effect. They also come in a slew of high-impact colors like cobalt and lilac."—Lauren Valenti, Beauty Editor
$25; .
2
Lancôme Artliner Precision Point Eyeliner
"I hardly every leave the house without some semblance of a cat eye, which means I'm a true loyalist to the eyeliners that work. For the every day, I used to stock up in bulk on the until I discovered Lancôme's Artliner Eyeliner, and I never looked back.
It's super easy to use for creating thick lines or stiletto point cat-eyes and the true unicorn for me is that the tube lasts so much longer than any other liner I've ever used, without drying up."—Lori Keong, Assistant Digital Editor
$31; .
3
Stila Stay All Day Waterproof Liquid Eyeliner
"Stila all day erryday! I wore a cat-eye every day for ten years so I take eyeliner very seriously. I've tried powders, gels, liquid liners–you name it. I like Stila best because its marker-like applicator has a really fine tip that allows me to get the perfect point. Also, the formula is super opaque and long-lasting."—Jazmin Jones, Video Editor
$22; .
4
Givenchy Parad'Eyes Fluid Eyeliner
"I am (and always will be) a diehard cat-eye fan. My everyday signature look is no liner, mascara, or shadow on the bottom—just a dark black swipe on my top lashes with a flick at the end. That being said, I splurge on my liner. Pretty much anything from Givenchy is golden, but this liner is SO pigmented and gives even the shakiest-handed chicks a steady line."—Andi Henke, Beauty Assistant
$31; .
5
Rimmel Scandal Eyes Waterproof Eyeliner
"I like to wear a heavy line on my top lid, and this cream pencil is SO easy to use. And it never smudges. Seriously, on nights that I've fallen asleep in my makeup (don't tell anyone!), my eyes will still look fresh come morning. Of course, I have to mention the price tag, too, because it's laughably amazing."—Rosa Heyman, Social Editor
$5; .
6
Tom Ford's Eye Defining Pen
"Tom Ford's Eye Defining Pen is genius to create the perfect cat eye because it's dual-ended and is insanely pigmented. Use the thicker end to draw on the line along your top lid, then swipe the thinner end to create your flick/wing. Trust me, it's well worth the splurge!"—Claire Fontanetta, Assistant Beauty Editor
$56; .
7
Urban Decay's 24/7 Glide-On Pencil
"I've mostly stopped wearing eyeliner on a daily basis, partially because I don't have a great go-to—but I love Urban Decay's 24/7 Glide-On Eye Pencil in shades like metallic teal on the (admittedly rare) night I'm in the mood for a bolder look."—Lane Florsheim, Features Editor on the "Junkie" color
"Funny story, I never wear black! I only wear dark purple/aubergine pencil. I once heard that purple makes blue eyes pop, and I think it's totally true. And a dark purple is subtle enough that your eyes just generally look outlined, not like you're wearing costume-y crayola colors."—Lauren Bernstein, Branded Content Senior Editor on the "Rockstar" color
$20; .

8
Tarte Tarteist Double Take Eyeliner
"For special occasions, I've recently discovered a tear-proof secret weapon. On dates, I always end up getting sweaty raccoon eyes under my eyes, which has led to many makeup meltdowns. Since I discovered Tarte's double liner, it has never let me down (and it's double-sided!). Will it save my love life? TBD."—Lori Keong, Assistant Digital Editor
$24; .