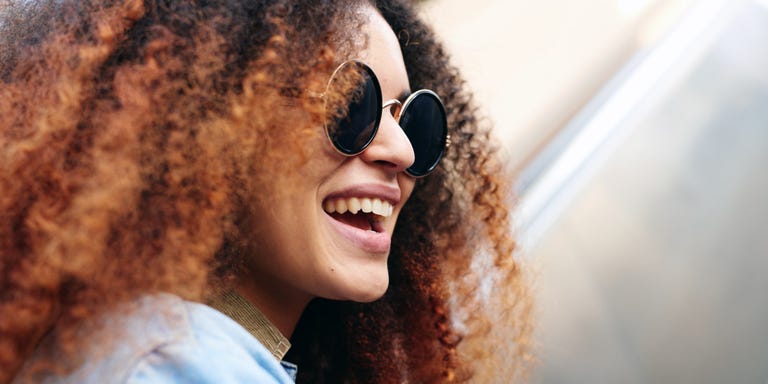 I know what you're thinking, and I already have the answers to all of your questions: 1. Yes, you actually do need a sulfate-free shampoo, 2. No, it's not a gimmick, and 3. Why yes, I am single and ready to mingle. What? Sorry.
Listen, sulfates are super-harsh detergents (the same ones found in bar soap and dish soap) that literally strip all of the moisture from your hair, leaving it brittle, faded, tangled, and, get ready for it, even oilier. The fix? Sulfate-free shampoos, which contain all of the good, hair-hugging ingredients without any of the damaging ones. And that means healthier, shinier, more date-worthy hair for you. Find the best formula for your hair type, below, and get ready to feel the love.
1
For Thick, Frizz-Prone Curls
Briogeo Curl Charisma Rice Amino and Shea Moisture Shampoo, $24
Curly kids, take note: This ultra-moisturizing shampoo uses a blend of natural oils to hydrate and soften dry hair, plus a dose of humidity-fighting tomato ferment—a combination that keeps curls from shrinking up or frizzing out.

Bumble and Bumble Hairdresser's Invisible Oil Shampoo, $31
Don't let the idea of layering extra oil on your greasy roots stop you from trying this best-selling shampoo. Even though it's sulfate free, the formula has serious sudsing powers that break down product buildup and scalp oils without stripping your hair.
SheaMoisture Curl & Shine Shampoo, $10
Repeat after us: Curls need moisture. Now go tattoo it on your forehead until it really sinks in, because if you're using anything but a hydrating, sulfate-free shampoo, like this silk protein– and neem oil–infused Shea Moisture formula, you're basically asking for breakage, tangles, and damage.
4
For Fine, Oil-Prone Hair
Acure Organics Lemongrass and Argan Stem Cell Shampoo, $9
Trust us—you don't need a heavy-duty, hair-stripping formula to get your scalp clean. And this natural, tea tree oil–infused shampoo proves it by cutting through oils to soothe scalp irritation, without leaving your hair feeling like straw.
Pureology Hydrate Shampoo, $28

Sure, it's on the pricier side for your average shampoo, but then again, it's not your average shampoo. This hydrating formula is basically the king of all color-safe shampoos, because it not only protects your hair from fading, but it also mitigates the inevitable damage that comes with each dye job.
Ouidad Superfruit Renewal Clarifying Cream Shampoo, $21
Most curl-specific shampoos are way too rich and heavy for fine curls, which is why we're obsessed with this cream-based clarifying shampoo from Ouidad. Not only will it keep curls moisturized with a layer of lightweight banana oil, but it'll also give your scalp that "clean" feeling, thanks to its mix of clarifying fruit acids.
Verb Volume Shampoo, $14

Not sure what hair type you have? Go with whatever formula makes you look like you're constantly walking by a wind machine, like this volumizing shampoo from Verb. It uses keratin proteins to amp up limp hair, plus vitamin B5 to hydrate dry ends without weighing them down.