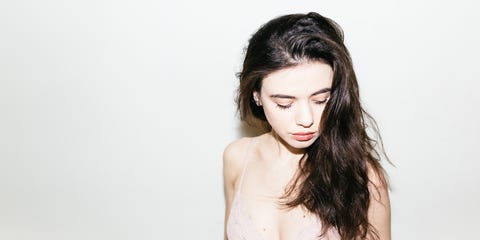 Finding a good shampoo shouldn't be a struggle—in fact, it shouldn't be anything at all, because it's shampoo, and who cares? (We do. We really care.) But if you've got naturally oily hair, you know how difficult it can be to find a formula that will leave your roots squeaky clean without making them feel like straw. Which is where we come in.
We've combed through every shampoo in existence (more or less) to bring you the formulas that cut through the oils while leaving the rest of your hair feeling like a shiny, moisturized masterpiece. Check out our favorites, ahead.
Kinky Curly Come Clean Natural Moisturizing Shampoo, $12
Here's a fact: Sulfates are the death of curly hair. Here's another fact: Virtually all clarifying shampoos are full of sulfates. Which is why we're so in love with this all-natural formula from Kinky Curly, which uses mandarin orange extract to dissolve grease and grime, and sea kelp extract to keep your curls from drying out.

2
For oily roots with dry ends...
L'Oréal Paris Elvive Extraordinary Clay Rebalancing Shampoo, $4
This creamy shampoo feels like whipped happiness on your scalp, and it's probably because most of its key ingredients are usually found in skincare, not haircare. We're talkin' kaolin clay (which immediately soaks up oils), salicylic acid (which exfoliates flakes and dry skin), and a bunch of lightweight oils—the good kinds; don't freak—that work to lightly moisturize your ends, without leaving them lank and greasy.

Cristophe Robin Purifying Shampoo, $38
No sulfates, no silicones, no ammonia, no unhappiness. This low-lather shampoo is formulated with a mix of moisturizing cherry blossom extracts and clarifying jujube bark extract (which also has natural antibacterial properties that help stave off dandruff). And did we mention the fact it's also a wizard at soothing itching and irritation? Basically, you need this shampoo in your oily-rooted life.
4
For super-curly hair...
The Doux Sucka Free Moisturizing Shampoo, $13
It's cute how you thought we were going to recommend some hardcore clarifying rinse for your curls. NOPE! Sorry, but even the oiliest of curly hair still needs a moisturizing shampoo, or you'll dry the hell out of your curls (and inevitably damage them) after just a few washes. Enter: this shea butter-infused shampoo that uses only the lightest of hydrators and fruit extracts to dissolve product buildup and oil while still wrapping your hair in a layer of moisture.

Fekkai Apple Cider Shampoo, $12
Probably the most famous OG of all clarifying formulas is the Fekkai Apple Cider Shampoo, which uses—you guessed it—apple cider vinegar to naturally break down product buildup and scalp oils, along with a hefty dose of silk proteins and apple extract to add shine and smoothness. Use it only once or twice a week, though, especially if your hair is on the drier side.